The IsaLean Bar from Isagenix is the perfect high-protein healthy snack: designed to contribute to your healthy lifestyle.
Giving yourself a protein boost never tasted so good! With 18 grams of protein and 2 grams of fibre, an IsaLean Bar keeps you full between and after workouts, promoting healthy eating habits and lean muscle building.
Product Overview
Weight-Managing, Performance-Enhancing Snacks
It can be tempting to reach for a snack after working your tail off at the gym. But,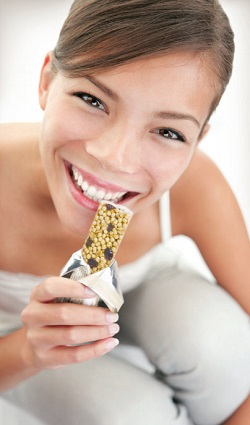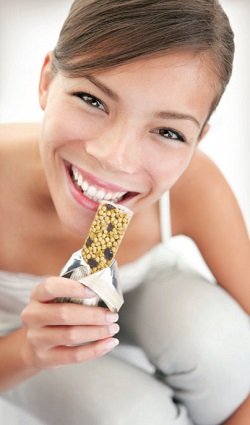 what you put in your body is what you'll get out of your body. That's why IsaLean™ Bars should be the first thing you grab before or after a workout if you want to see some significant changes in your body and performance.
These tasty bars are conveniently packaged and sized to stash in your gym bag or lunch box. Eat one before you head to the gym for an energy-packed workout. Or, curb your cravings and hunger pangs after an intense workout with an IsaLean™ Bar. The right balance of nutrition after a workout can help repair muscles, reduce stress, and refill energy stores.
Currently available in the UK in a delicious chocolate decadence flavor.
Each bar is free of soy and gluten, so even vegetarians and those with allergies can enjoy.
And, IsaLean™ Bars are packed with undenatured protein, meaning that its protein is highly digestible and not changed by heat treatments, harmful additives, or sugars. You get real, unaltered protein that keeps your body working its best. Combined with the perfect amounts of healthy fats and carbohydrates, IsaLean™ Bars are like super snacks!
Looking for a complete meal replacement? Try the popular IsaLean Shake
Key Facts
Support for Healthy Weight Loss
Protein is important for healthy weight loss, as it helps you maintain lean muscle mass. An IsaLean™ Bar gives you a boost of protein and the perfect mix of energy-boosting carbohydrates and healthy fats in an easy-to-grab snack that curbs cravings and hunger.
But, It's for More Than Just Weight Control
This healthy snack may help to contribute to an overall healthy lifestyle. Whether you're a high-performance athlete or want to maintain a healthy weight, an IsaLean™ Bar could give you the energy you need for intense workouts and the nutrition you need for your body.
High Protein Content for Healthy Muscles 
Protein builds and repairs muscles, and IsaLean™ Bar is chock full of the protein you need to do so. Each bar has 18 grams of high-quality whey-based protein to build lean muscle to get you closer to your performance goals.
Kid-Friendly Snack
Pack a bar in your child's lunch box, or let him grab one after school, for a convenient, healthy snack for kids 4 and up. He'll get a delicious snack, and you'll have peace of mind knowing that he's getting nutrients he needs.
Pricing
Buy Retail:
No Membership Fees. Order Directly from Isagenix at Low Retail Prices
Fast Shipping, Genuine Products, Great Service & 30-Day Product Money Back Guarantee (on your 1st order)
10 ct Bars: £32.00
Sign-up & Save:
Join as a Preferred Customer on Autoship to receive the lowest prices
Membership Fee:
£22.80 per year(or £34.80 if autoship not selected)
Product Pricing:
10 ct Bar: £24.00
How to Use
Directions for Use
Enjoy at any time during the day!
Flavours
Currently available in the UK in Chocolate Decadence flavor.
Ordering Options
10-count boxes of individually wrapped bars.
Ingredients
You can find all of the ingredients here.
Order Online
Order your favourite variety of IsaLean™ Bars online today. 
Or Call Us On: 0207 1755 684