If you have a busy life as most of us do you'll know how difficult it can be to make sure you are giving providing your family (and you of course) with the right levels of nutrients day-in, day-out.
We are told to aim for at least 5 serves of vegetables and two serves of fruit a day, but sometimes it can be difficult to achieve and we don't always know what our children are eating when they are at school (or our husbands and wives when they are at work)
Plus even when we do get the endorsed serves of fresh fruit and vegetables we still are guaranteed to be providing our body with the right nutrients and in sufficient quantities. Factory farming methods, chemicals and other factors have created nutrient depleted soils which are much lower in trace minerals than they were in the past. Even a diet that seems healthy could be deficient in one or more essential minerals.
You can read all of our latest articles and find out more about the other products available from Isagenix by clicking here.
The answer could be IsaFruits and Isagenix Greens. These are not intended as a substitute for eating a healthy diet but as a way to ensure you are getting optimum nutrition each and every day.
Isagenix Greens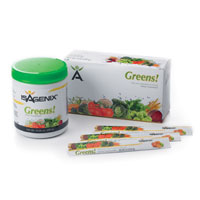 IsaGreens is an advanced formulation of specifically selected herbs, vegetables and other nutrients. It contains 'superfoods' like Spirulina, Barley Grass which are packed full of trace minerals, high in protein and antioxidants to help support overall health. Probiotics and fiber has also been added to the product to provide an all round boost.
Each serving contains less than 30 calories and its a fantastic way to get nutrition on the go!
IsaGreens is available in a canister or individual serving sachets, just mix with water, drink and you're done!
IsaFruits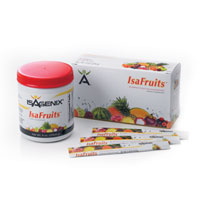 IsaFruits is the perfect compliment to IsaGreens and a convenient way to get compliment your intake of fruits to achieve your daily endorsed intake.
There are some real 'superfruits' inside this product including Mangosteen, Kiwi, Noni, Guava and in each serve you'll get the antioxidant powder of up to 20 different fruits – much better than a one ingredient juice!
IsaFruits is dried at cold temperatures to retain full nutrient value and each serving is less than 30 calories and contains less than 1 gram of sugar!
A great alternative to fizzy drinks and sodas and your whole family will enjoy IsaFruits.
This product is also available in individual servings or a larger container. Add one to your lunchbox everyday!
If you have any questions about these products or would like to place an order please contact us or click on the buy button above.
Product B
Another product you may be interested in is the recently launched Isagenix product B. This product helps to support healthy telomeres and protect the body from potentially damaging free radicals, its natural and contains a proprietary formula of herbs and botancials.
This product is now available to customers in Canada, the USA and Australia and will be available in other markets in the coming months.