Give Your Body the Extra Boost It Needs
Isagenix e-Shots are designed to give you a healthy energy boost whenever and wherever you feel the need for a little pick-me-up. Whether you're gearing up for a long stint in the office or preparing for an intense workout, e-Shots can give you the energy boost to kick-start your day.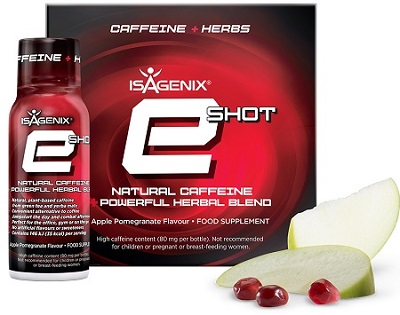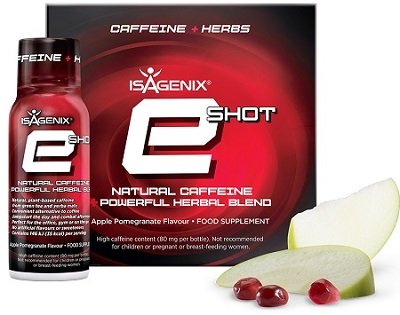 Product Overview
Energise Yourself the Natural Way
When you're feeling not quite one-hundred percent, e-Shots can give you the energy boost that you need to improve both your physical and mental performance.
Each two-ounce bottle is packed with energy from a blend of botanicals, including plant-based caffeine from green tea and yerba mate. Herbs such as ginseng also give you a burst of energy and help you to stay awake, alert, and focused on the task at hand.
At just 35 calories per serving, e-Shots offer a healthy, low-fat alternative to teas, coffees and caffeinated sodas. The formula also avoids harmful sweeteners, colouring, and other artificial additives found in many popular beverages. With e-Shots, you can enjoy a convenient and guilt-free energy boost whenever you feel yourself losing steam during a busy day.
Key Facts
No artificial flavours, colours, or sweeteners
e-Shots use ingredients derived from nature, without any dangerous chemicals or harmful additives. Caffeine content comes from natural herbs and botanicals.
Small and convenient packaging
In small two ounce bottles, e-Shots are easy to slip in your purse or pocket. Bring them with you to the office, the gym, or anywhere else while on the go.
Boost stamina and endurance
e-Shots only feature healthy ingredients without any potentially harmful artificial flavours, sweeteners, or colours that are commonly found in other energy drinks. A blend of hand-selected herbs and other botanicals help to boost energy to help you keep going for longer. Get more out of every workout without over-exerting yourself.
No meat products, gluten, soy, lactose, or other allergens
Isagenix e-Shots are safe even for those with food sensitivities and selective diets. The energy drink's unique formula uses all-natural ingredients that are safe for vegetarians and those with gluten and soy allergies as well as the lactose intolerant.
Pricing
Buy Retail:
No Membership Fees. Order Directly from Isagenix at Low Retail Prices
Fast Shipping, Genuine Products, Great Service & 30-Day Product Money Back Guarantee (on your 1st order)
6 x 2oz Bottles: £25.33
Sign-up & Save:
Join as a Preferred Customer on Autoship to receive the lowest prices
Membership Fee:
£22.80 per year(or £34.80 if autoship not selected)
Product Pricing:
6 x 2oz Bottles: £19.00

How to Use
Directions for Use
Drink one to two bottles on days where you feel like you could use some extra energy. Use alongside Ionix Supreme for an even bigger boost. Approved for use on cleansing days, whether you are following the 9-day or 30-day program.
Flavours
Available in succulent apple pomegranate flavour.
Product Options
Available to purchase in packs of six two-ounce bottles.
Ingredients
For a full list of ingredients please check here.
Order Online
Re-energise and revitalize with an e-Shot from Isagenix. Order today to give yourself a kick-start in the office, at the gym, or at home.
Or Call Us On: 0207 1755 684