Natural and Stimulant-Free Metabolic Support
Support metabolism without harsh stimulants and artificial ingredients. Thermo GX uses ingredients that are known to support metabolism naturally. Natural ingredients mean no jittery after effects commonly experienced when using stimulants.
Thermo GX gives stable and consistent metabolic support that won't cause adrenaline rushes or other undesirable side effects. Each ingredient's impact on metabolism and fat burning capabilities is well-documented via studies and trials.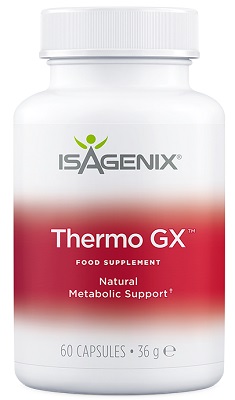 Product Overview
Support Metabolism the Healthy Way
Thermo GX by Isagenix UK contains a range of targetted ingredients that come together to support metabolism and energy production without giving you the jittery feelings associated with some other products.
Other metabolic supplements focus solely on caffeine for energy production and
metabolic support. Thermo GX uses green tea leaf extract, niacin, and chromium for a blended formula that targets the body's natural systems.
Green tea shows up throughout the weight loss market, as it's reputed to boost metabolism and help burn fat.
Studies such as a 2008 trial on green tea extract show that green tea consumption increases fat oxidation.
Cinnamon, apple cider vinegar, and cocoa seed also contribute to the body's metabolic activity. Studies suggest that cinnamon also assists in weight loss because the spice helps your body break down its carbohydrate storage, and other studies show that cinnamon improves outcomes related to insulin resistance, elevated blood sugar levels, and weight gain.
Key Facts
Targeted ingredients aim for metabolism and energy support:
Natural extracts combine to create a power-packed capsule that supports metabolism. Promotes energy and optimal metabolic processes.
Vegetarian capsules are allergen-free:
This vegetarian capsule  is gluten-free, dairy-free, soy-free, and nut-free.
Niacin and chromium team up to influence energy-yielding metabolism.
Niacin and chromium support the body's natural metabolism. Niacin comes from cayenne pepper, while chromium comes from cocoa seeds.
How to Use
Directions for Use
Take 1 capsule twice daily.
Ordering Options
60 count bottles of vegetarian capsules.
Ingredients
Pricing
Buy Retail:
No Membership Fees. Order Directly from Isagenix at Low Retail Prices
Fast Shipping, Genuine Products, Great Service & 30-Day Product Money Back Guarantee (on your 1st order)
60 Capsules: £28
Sign-up & Save:
Join as a Preferred Customer on Autoship to receive the lowest prices
Membership Fee:
£22.80 per year(or £34.80 if autoship not selected)
Product Pricing:
60 Capsules: £21
Order Online
Promote your body's natural metabolic processes and energy stores with Thermo GX. Order today! 
Or Call Us On: 0207 1755 684