Nourish and Revitalise for Optimal Body Functions
Nourish for Life combines B vitamins, herbs, and botanical elements in a fruit-flavoured drink mix. This blend of nutrients aims to yield improved energy and metabolism. This revitalising beverage is a vital part of Cleanse Days in many Isagenix programs.
Enjoy Nourish for Life daily for everyday revitalising or use on Cleanse Days as part of the 30 day weight loss system.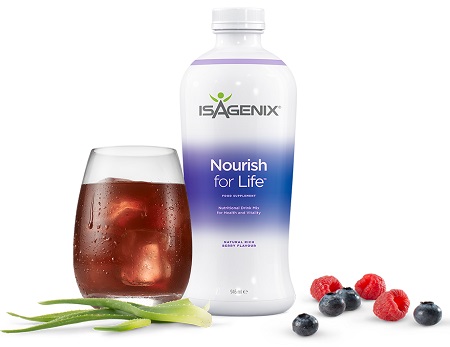 Product Overview
Nourish and Refresh from the Inside Out
B vitamins are natural energy boosters, helping your body jump start its metabolic, nervous, and immune systems. B vitamins are also essential to optimal vision. Because B vitamins are water-soluble, that means excess vitamins exit the body through urine.
B vitamins' water-solubility also means we need consistent delivery of those vitamins! With a daily dose your B vitamin intake increases, as does your water intake.
Studies have shown that all eight varieties of B vitamins are vital to bodily functions. Nourish for Life contains three main types of B vitamins; B3 (niacinamide), B6 (pyridoxine hydrochloride), and B12 (cyanocobalamin).
Many processes and enzymes in the brain rely on consistent B3 reserves. When we're deficient in B6, we can suffer from disordered sleep, behaviour, and cardiovascular function. A lack of B12 can also lead to impeded brain function.
The simple solution to ensuring optimal B vitamin uptake? Nourish for Life, daily!
Key Facts
Naturally sourced nutrient blends refresh your body:
B vitamins, herbs, and botanicals create a light and refreshing beverage. Enjoy Nourish for Life daily as part of your Isagenix UK program.
Customise the mix to suit your preferences:
Dilute with water for daily revitalising, ice it down for hot days, or drink it as a warm tea in cold months.
Allergy-friendly to accommodate a wider audience:
Dairy-free, gluten-free, and soy-free. It is vegetarian and features a rich berry flavour from fruit and vegetable sources.
How to Use
Directions for Use
For Everyday Revitalising, take 30-59 ml once or twice daily. For Deep Revitalising, dilute 118 ml with 120-240 ml of cold water two to four times daily.
Ordering Options
Natural Rich Berry Flavour – liquid – 32 oz bottle
Ingredients
Pricing
Buy Retail:
No Membership Fees. Order Directly from Isagenix at Low Retail Prices
Fast Shipping, Genuine Products, Great Service & 30-Day Product Money Back Guarantee (on your 1st order)
32 oz Bottle: £41.33

Sign-up & Save:
Join as a Preferred Customer on Autoship to receive the lowest prices
Membership Fee:
£22.80 per year(or £34.80 if autoship not selected)
Product Pricing:
32 oz Bottle: £31.00
Order Online
Nourish, Balance & Revitalise with Nourish for Life! Order Yours Now.
Or Call Us On: 0207 1755 684