Enjoy a Shameless Chocolate Indulgence with Nutritional Perks
Milk chocolate squares with hints of caramel and sea salt sound nothing like health food. But with Isagenix, chocolate isn't just delicious. It's packed with nutritions too! IsaDelight chocolates offer a nutritional boost that doesn't exist in regular chocolate.  Green tea extract and infused vitamins give chocolate a new purpose.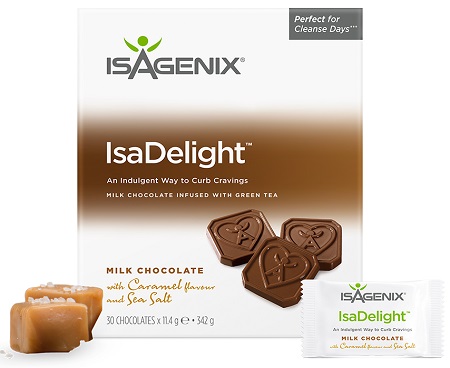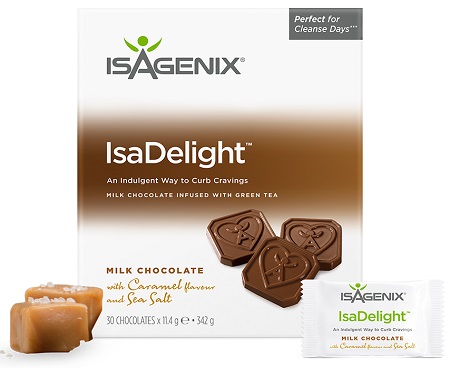 Product Overview
Infused Chocolate That Works with You, Not Against You
Regular chocolate is mostly sugar and fat. IsaDelights contain infused green tea
extract and the proprietary Isagenix IsaDelight Amino Complex. Amino acids, antioxidants, and B vitamins combine in nutrient-dense chocolate squares.
If you're dealing with cravings while using an Isagenix weight loss system, this maybe the solution you've been looking for! Prevent overeating and overindulging by only consuming good-for-you treats, and you'll be inspired to stay the course.
With only 3.5 grams of fat per chocolate and 6 grams of carbohydrates, IsaDelights are suitable for a range of weight loss program parameters. Finally, chocolate that can help keep us fit!
Key Facts
Guilt-free chocolate for health-conscious eaters: Rather than snacking on highly processed and calorie-filled treats, reach for an IsaDelight. Stay on track with your weight loss and healthy eating goals by indulging in a healthy alternative.
Snacking support during Cleanse Days: When following Cleanse plans, the lowered calorie intake may cause you to crave sweet treats. Consuming IsaDelights won't throw you off course on Cleanse days, or any other day!
Individually Wrapped for Convenience: Each chocolate is individually packaged and contains only 60 calories. With only 4 grams of fat in one chocolate square, you'll feel decadent without actually cheating.
Pricing
Buy Retail:
No Membership Fees. Order Directly from Isagenix at Low Retail Prices
Fast Shipping, Genuine Products, Great Service & 30-Day Product Money Back Guarantee (on your 1st order)
30 Individual Packets: £48
Sign-up & Save:
Join as a Preferred Customer on Autoship to receive the lowest prices
Membership Fee:
£22.80 per year(or £34.80 if autoship not selected)
Product Pricing:
30 Individual Packets: £36
How to Use
Directions for Use
On Cleanse days, eat one mid-morning or early evening when cravings hit. For other days, substitute a chocolate square for your regular afternoon snack. Or, replace dessert with a caramel and sea salt square without throwing off your entire day's nutrition.
Ordering Options
Available in 30 count boxes. Each single-serve package contains one chocolate square, so portion control is automatic.
Ingredients
Order Online
Whether you're participating in an Isagenix program or you are looking for a healthier chocolate option to beat cravings, IsaDelights are both delicious and nutritious.
Or Call Us On: 0207 1755 684