Undenatured high-protein powder for strong, athletic performance and muscle building.
We are pleased to announce that IsaPro is now available from Isagenix UK. IsaPro is packed with 18 grams of undenatured whey protein to assist your efforts to build muscle, maintain lean muscle mass, and help your body recover after intense workouts. Combine this shake with your current workout regimen for a protein boost to help you maximise your athletic performance.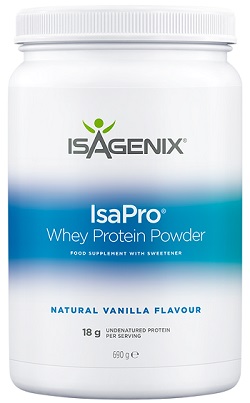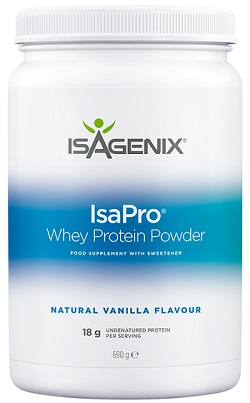 Product Overview
Using Whey Protein for Post-Workout Muscle Repair and Building
If your workouts are fatiguing your muscles more than building them, then it may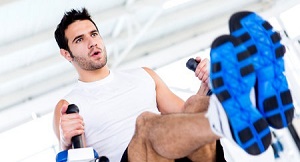 be time to pack in more of a punch with extra protein. IsaPro adds undenatured whey protein to your diet when you need it most.
Whey protein helps produce a powerful antioxidant called glutathione, and contains a complete balanced amino acid profile. Isagenix used advanced processing methods to protect the amino acid profile, and no fillers or additives are required.
This has to be one of the most convenient ways to add more protein to your diet for those wanting to build lean muscle mass and maintain endurance during grueling workouts and athletic performances.
Mix the powder with an IsaLean Shake or simply add purified water, shake, and drink at the gym. This product is best as a post-workout drink, but you can also use it as a protein-rich snack between meals. Low carbs and fat and only 90 calories per serving make it perfect for adding to yoghurt, oatmeal, or your favourite drink for a low-calorie, high-protein snack.
Try it today – we don't think you'll be disappointed!
Key Facts
Increase Endurance
This protein-packed shake can be added to an IsaLean Shake to create a high-protein meal replacement shake, giving you long-lasting energy to get you through even the most intense workouts.
Simplicity and Convenience at Their Finest!
What could be simpler than mixing a scoop of IsaPro with water to create the perfect drink between meals or after workouts? No mess, no fuss. Bring your water bottle and IsaPro to the gym, shake it up, and power-charge your workouts!
Trigger Muscle Repair 
Did you know that post-workout is when your muscles crave the most protein? It's important to nourish them for optimal repair, and undenatured whey protein is the way to do it.
Perfect for Athletes
As an athlete you'll want to make sure you are feeding your body with the right balance of nutrients to give you the strength and endurance you need perform at your full potential. With 18 grams of protein, IsaPro is a great addition to your supplement program.
Pricing
Buy Retail:
No Membership Fees. Order Directly from Isagenix at Low Retail Prices
Fast Shipping, Genuine Products, Great Service & 30-Day Product Money Back Guarantee (on your 1st order)
30 Servings: £56.00
Sign-up & Save:
Join as a Preferred Customer on Autoship to receive the lowest prices
Membership Fee:
£22.80 per year(or £34.80 if autoship not selected)
Product Pricing:
30 Servings: £42.00
How to Use
Directions for Use
Mix one scoop with 120-160ml purified water & shake / blend thoroughly. For best results, drink within 10 minutes of mixing.
To add to an Isalean shake mix one scoop with 1 1/2 scoops of IsaLean Shake and 230ml purified water.
Flavours
Currently available in the UK in Vanilla flavour.
Ordering Options
690g container that yields 30 servings.
Ingredients
You can find all of the ingredients here.
Order Online
Keep your body fueled and your diet packed with the protein it deserves with IsaPro
Or Call Us On: 0207 1755 684