Get Your Body Back in Balance the Natural Way
Give yourself a head start each morning with Ionix Supreme, a daily botanical tonic designed by Isagenix to support your overall health and wellbeing. Fruits, herbal extracts, and other natural botanicals energise your body and protect against stress, helping you to feel your best each day.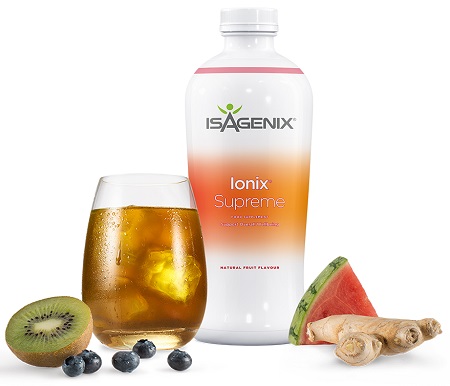 Product Overview
Less Stress, More Energy
Ionix Supreme helps to combat the effects of chronic stress with a wide range of
natural ingredients, including fruits and vegetables, herbs, and botanical extracts. Essential vitamins and nutrients help to keep your body balanced, targeting multiple organs to keep you performing at your peak physical and mental level.
A carefully crafted blend of adaptogens helps to protect against the negative effects of stress, both balancing and normalising important body systems. Antioxidants found in the drink help to support healthy ageing by combating free radicals and oxidative damage.
Isagenix Ionix Supreme not only combats damage caused by stress, but it can also prepare you for the day ahead by reducing fatigue and lethargy. The drink energises cells with safe and natural ingredients, improving mental clarity and focus.
Key Facts
Contains over 100 botanicals, adaptogenic herbs, and fruits
Ionix Supreme contains a wide variety of natural ingredients that help to combat stress, increase energy levels and help your body perform at optimal levels as you go about your day. Ingredients such as goji berries, red ginseng, and ginger root have been used in traditional and holistic medicine for hundreds of years to help ease stress and promote a sense of wellbeing.
Supports faster post-workout recovery
A spectrum of vitamins and nutrients help to protect your muscles while you work out so that they don't ache the following day.
Fight Fatigue
Helps to fight fatigue and increases energy levels, helping you to enjoy a greater level of clarity and focus.
Helps to protect against stress
Carefully chosen plant-based adaptogens and antioxidants from ingredients such as blueberries and kiwi fruit combat cellular damage caused by free radicals
Pricing
Buy Retail:
No Membership Fees. Order Directly from Isagenix at Low Retail Prices
Fast Shipping, Genuine Products, Great Service & 30-Day Product Money Back Guarantee (on your 1st order)
32oz Bottle: £41.33
Sign-up & Save:
Join as a Preferred Customer on Autoship to receive the lowest prices
Membership Fee:
£22.80 per year(or £34.80 if autoship not selected)
Product Pricing:
32oz Bottle: £31.00
How to Use
Directions for Use
Mix 1-2 ounces with water and enjoy morning, noon, or night. For an extra boost, enjoy your drink with an IsaLean Shake.
Ordering Options
32-ounce bottle
Ingredients
Contains over one hundred hand-selected botanicals, herbs and other nutrients. View a full list of ingredients here.
Order Online
If you want to give yourself a delicious and nutritious energy boost before starting your day, order Isagenix Ionix Supreme online today!
Or Call Us On: 0207 1755 684