It seems like everywhere you turn these days, you hear that someone is trying intermittent fasting. Many of these people claim to have successfully lost weight and have their health improved while trying intermittent fasting. This seems to be the hottest new fitness and health trend going viral through social media channels, as well as in fashion and fitness magazines. Let's take a look at what intermittent fasting (IF) is and some of the science behind it. And then it is up to you to determine whether or not intermittent fasting is right for you!
What the Heck is Intermittent Fasting?
The crazy thing about intermittent fasting is that there are no set rules to go by. There are no guidelines, or books, or charts to follow. There is no "one-program-fits-all" with intermittent fasting. However, the term does describe it as a type of eating pattern that cycles between periods of eating (or feeding) and periods of fasting. The definition of fasting means to go without food, for a set period of time. People have been fasting for thousands of years, often for religious beliefs. However, recently intermittent fasting is gaining the attention of scientists and nutritionists to see if there are truly health benefits to this cycle of eating and fasting.
We may not be aware of this, but we actually do a form of fasting every day. We wake up and then eat throughout the day, then sleep for a number of hours where we are not taking in any food or drink. If you sleep for 8 hours, then you are fasting during that time. You eat and then fast – that is a very simplified version of intermittent fasting.
Intermittent Fasting is Not a Diet
Because there are no set rules when adding intermittent fasting to your lifestyle, there can be a bit of confusion about how to even do it. If intermittent fasting is about eating and then not eating, does that mean you can fast for a period of time and then eat whatever you want? Well, not really! The idea of intermittent fasting is to give your digestion and organs a break from always working and to help boost your metabolism.
The key to intermittent fasting is the food choices you make when you are on a feeding cycle. Whether you decide to eat three square meals a day or prefer to eat smaller meals, the balance of macronutrients is essential at every meal you ingest. Just because you go without food for a period of times, does not mean that you can justify chowing down super-fatty, heavily processed foods. You will want to eat meals that are rich in vegetables, fruits, lean protein, and healthy fats. Follow the UK's Eatwell Guide for helpful information.
What are Some of the Health Benefits of Intermittent Fasting?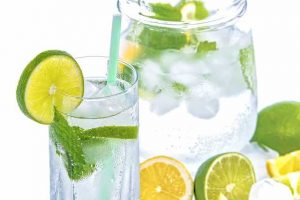 Research has shown that by restricting calories during a set period of time, intermittent fasting, you may lose weight, as well as other health-promoting effects. Much of the research is based on factors that are influenced by our circadian rhythms (which are 24-hour light-dark cycles,) Research has shown that eating outside of normal circadian rhythms, such as late night snacking, may disrupt the energy balance and may even cause cardiometabolic disease and cancer. According to a study in the Annual Review of Nutrition, even small periods of fasting, 8 hours or so, can reduce basal concentrations of metabolic biomarkers associated with chronic disease.
According to the Centers for Disease Control and Prevention, obesity greatly increases the risk of metabolic diseases such as coronary heart disease and Type 2 diabetes. By restricting calories for several hours per day, or by fasting for 24 hours every other day, your overall caloric intake will be reduced and as a result, you may experience weight loss. Obtaining a healthy weight for your body type and lifestyle through intermittent fasting may help to reduce your chances of obtaining one of these life-threatening chronic diseases.
What are Some of the Popular Intermittent Fasting Regimes?
In general, intermittent fasting refers to fasting times that range from 14-18 hours and in the context of intermittent fasting, should not exceed 36 hours. Here are a few of the popular fasting/eating cycles.
Basically, with this simple formula, you have a fasting period of 12-16 hours, and then eat as many healthy foods as you want during the eating window. So, if you finish dinner at 7:00 pm then you don't eat again until 7:00 am. Most of us do this anyway! You can extend the fasting window by finishing dinner earlier and having breakfast later. This is a good way to step into the world of intermittent fasting as you may not feel as hungry as more advanced forms of fasting.
You fast for 16 hours per day and eat during the eight hour time window. This time reference is gaining popularity with athletes and celebrities. A study from the University of Illinois at Chicago and published in the Journal of Nutrition and Healthy Aging showed that this type of IF had a good success rate with the study subjects able to adhere to this type of eating/fasting cycle for long periods of time.
With this eating/fasting pattern, you take two days a week with restricted caloric intake, usually between 500-600 calories per day. During normal eating days, eat as you normally would and on fast days, make very wise choices of where those 500 calories are coming from and how they can help benefit during this time.
This is similar to the 5:2 regime, yet on fasting days, you only consume non-caloric liquids.
This is a fasting type that must have a doctor approval and is best left to those who are experienced in fasting. Basically, you fast for 24 hours one day and then eat normally on the next day. Some followers of ADF consume zero calories, while others allow for minimal intake of 25% of whatever your normal daily intake would be. If you normally eat 2,000 healthy calories per day, then every other day you would eat zero calories or only 500.
One of the beautiful things about any of these intermittent fasting programs is that you don't have to do any math, count calories, or figure out which food is restricted or not. You eat healthily and then you fast! It is pretty simple!
Isagenix Cleansing Systems are the Perfect Choice for Intermittent Fasting
First, Isagenix promotes safe and healthy weight loss while maintaining lean body mass, and second, continued adherence to Isagenix weight loss tools can help one maintain that weight loss long term.
Following an Isagenix Cleansing System may be one of the best ways to bring IF into your life. With the 30-day cleansing system, you eat healthy with a set number of calories 6 days per week, and then you fast or cleanse for 24 hours while drinking the ultra-nourishing Cleanse for Life juice. The juice is nutrient-dense and provides important nutrients while only supplying about 500 calories. On the 9-day cleansing system, you eat for two days then cleanse for two days. This is a fast-track way to getting the benefits of the Isagenix Cleansing System when you may not be able to commit to the 30-day cleanse.
The beauty of Isagenix is the scientifically formulated products that help you to lose weight and cleanse your system. The high-quality protein shakes are made with denatured whey protein or for the dairy-free version, pea protein. The Cleanse for Life juice is filled with nutrients that help to support your system while on a calorie restricted eating plan. For more information on the Isagenix Cleansing Systems, please read more here.
However you choose to try intermittent fasting, always check with your doctor first, especially if you have any existing health conditions. And, keep in mind, it is not necessarily about how much you eat, but what you eat and when you eat! Be conscious and mindful of what you are eating and enjoy the benefits of intermittent fasting.