As the winter season approaches, it is time to catch-up with what's been happening at Isagenix UK!  As Isagenix is constantly expanding and developing amazing new products, it is important to keep abreast of their exciting new product launches, challenges, and philanthropic events.
TimetoCleanse is an independent Isagenix Associate and we are proud to be part of this company and their strong beliefs, values, and commitment to a No-Compromise policy and for always using high-quality ingredients sourced responsibly around the world. Let's see what's new!
South Korea Welcomes Isagenix International
As the Isagenix International company looks to expand into more and more countries, they are excited to announce their new market launch in South Korea. South Korea is basking under a strong economy and the people living there are very excited about having Isagenix International available in their country.
Congratulations to the 2018 IsaBody Challenge Winners!
When we talk about changing or transforming our lives, an action is required. And that is what the winners of the 2018 IsaBody Challenge did – they took action! We would like to give a big round of applause to the 2018 round 2 finalists for the 2018 IsaBody Challenge! These dedicated people took on the challenge and with commitment and hard work were able to achieve amazing results in transforming their bodies.
All of these winners will receive £1,000, as well as have a professional photo shoot, and for extra incentive, the chance to compete in the 2018 IsaBody Challenge European Grand Prize award.
Congratulations to Kathryn Harold from Nottingham who lost a total of 21.1 kg, to Toby Giles from Salisbury who lost 10.1 kg, and to Donnacadha Lynch from Limerick, who lost 36 kg. Great job everyone, you are an inspiration!
What is the IsaBody Challenge?
The IsaBody Challenge is a 16-week challenge that will inspire and motivate you to change your life and transform your body, using Isagenix products, regular exercise, and following a healthy lifestyle. You will have plenty of support from the Isagenix community as they cheer you on!
What Are the Requirements?
This intensive challenge is open only to Isagenix Associates and Isagenix customers. You will need to send in a before photo with proof of the start date and purchase a minimum of 500 Business Volume (BV) of Isagenix products. After the 16-weeks are finished, you will send in an after photo as well as a written essay on why you wanted to participate in the Challenge, what your goals were,  how you were able to achieve them, and how the Isagenix products helped you achieve those goals.
In addition, you will want to write about ways that you can motivate others to use Isagenix products to achieve their personal goals on their health and wellness journey. You must be 18 years or older to enter and you must be a resident of the United Kingdom. For more information on the IsaBody Challenge, read more here –
New Plant-Based IsaLean Shakes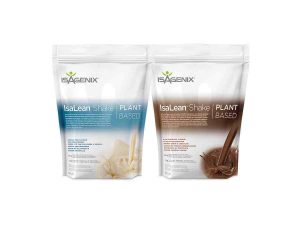 If you are looking to incorporate more of a plant-based diet into your lifestyle, then you will be excited to learn that the IsaLean Shake Plant Based drink is now available in the United Kingdom and across the European market in yummy Vanilla Chai flavour as well as delicious Rich Chocolate.
Made from plant-based proteins such as wholegrain brown rice and pea protein, each serving of these shakes provides a complete amino acid profile and serve up a whopping 24 grams of protein at only 250 calories per serving. The IsaLean Shakes Plant Based are completely dairy-free as well as soy and gluten free.
As with all Isagenix products, they stand behind their No-Compromise policy and use only high-quality ingredients that have gone through rigorous testing to ensure that the final product is pure and unadulterated.
Whey Thins and Harvest Thins
When a snack attack hits, instead of reaching for salty and unhealthy crisps, reach for delicious Isagenix Whey Thins and the dairy free equivalent of Harvest Thins. With only 3 grams of fat and 100 kcal per pack, these tasty snacks provide 10-11 grams of protein. These super tasty, crunchy, and satisfying snacks are perfect for mid-morning or mid-day hunger pangs and are also perfect for protein pacing. Purchase several boxes of each and keep a packet in your bag, your office desk, and in your car and you will never have to reach for an unhealthy snack again!
Product Spotlight: Isagenix Greens
As winter moves in, it can be more and more challenging to get fresh greens into our diets. This is where Isagenix Greens comes in handy. Filled with high-quality nutrient-dense vegetables and herbs, a serving of Isagenix Greens can give you the necessary nutrients you need. With over 33 types of vegetables and herbs, as well as ginkgo biloba leaf, green tea and grape seed extract, this powerhouse of a blend is designed to help boost your immune system which you need to help fight off colds and the flu. Drink a serving of tasty Isagenix Greens daily and give your body the nutrition it needs to stay healthy this winter!