Now that 2019 is well underway, how are your resolutions for weight loss and weight management coming along? As we get busy and back into a normal routine after the holidays, it can be challenging to stick to your resolutions. But with the right attitude towards your weight loss goals, creating healthy lifestyle habits, and using Isagenix Weight Loss Systems and products regularly, you can help to keep those resolutions. Let's take a look at a few ways that you can be sure to stay on track for your health and wellness goals in 2019.
TimetoCleanse is an Independent Isagenix Associate and we have strong convictions on living the healthiest and happiest life possible. We cheer and support everyone who is committed to living a healthy life as well.
Have the Right Attitude
In order to create healthy new habits in any aspect of your life, you must have the right attitude. Instead of feeling deprived when you are trying to lose weight, think of all the things you will be able to do. Once you reach your weight loss goal, you will be able to fit into new clothes, cute swimwear, and feel more comfortable in your body. Embrace eating lighter, doing regular intermittent fasting, and how strong your body feels after a solid work out. Think about how much more energy you will have when you add regular Isagenix weight loss systems to your routine. You can play with the kids easier, run with your dog, and have a zest and vitality for life. Having the right attitude will make shedding those extra pounds feel effortless!
Meditate and Journal Daily
Our minds are so busy and inundated with data and information all day long. It is imperative that you take time out every day to calm your mind and find inner peace. Then you can focus on creating positive changes that will help you achieve your health and wellness objectives. If you struggle to calm your mind or are new to meditation, consult with someone who is certified in teaching meditation or enroll in a guided meditation class. You will benefit from the knowledge and support from someone who is trained in meditation techniques.
Buy yourself a beautiful journal and write your goals down. Make them realistic and attainable so that they are achievable and you will feel rewarded when you do accomplish them. In addition, write down your thoughts, hopes, dreams, and frustrations to release them from your brain. Buy a separate journal just for your weight loss journey as well. Keep track of everything that you eat and drink during the day and how much exercise you have gotten. Having this written down will help you see realistically how well you are doing. And most importantly, be kind to yourself while you are on a weight loss journey. There will be times when you may feel frustrated, but keep pushing through! The rewards far outweigh any frustration.
Exercise Everyday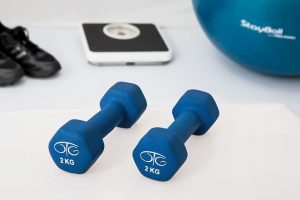 Exercising daily can be a challenge when you live a busy life! But make a commitment to strength train 2-3 days per week, either at the gym or with your home gym. Move your body as much as you can- even if you have a desk job where you sit all day. Learn small ways to sneak in exercise while at work, like taking the stairs instead of the elevator, doing a few squats when you stand up, and even doing a few wall push-ups. Every little bit adds up and will make your body stronger and help to boost your metabolism.
Manage Your Weight with the Isagenix 30-Day System
In order to jumpstart your journey to health and wellness, order the Isagenix 30-Day Weight Loss and Weight Management System. You will not go hungry when using Isagenix and your body will be nourished with vitamins, minerals, and essential nutrients to help support your body during the 30-Day program.
How Do I Use the 30-Day System?
It's easy and convenient! Six days per week, you replace 2 meals with an IsaLean Shake and once per day you get to eat a low glycemic meal of about 400-600 calories. You can make this meal your lunch or dinner, whichever works best for you. One day per week is considered Cleanse or Intermittent Fasting day. On this day you will drink the highly-nutritious Nourish for Life beverage 4 times per day. Drinking the nutritious beverage and intermittent fasting allows your body to take a break from digestion and to give your body the chance to burn fat.
In between, eat a few Isagenix Snacks to help keep blood sugar levels balanced as well as stave off cravings. Every day during the 30-Day System, drink the Ionic Supreme which provides B vitamins and herbal adaptogens to help you receive more energy. In addition, take one IsaMove to helps support your digestion and Thermo GX which helps to boost your metabolism.
When you order the Isagenix 30-Day System, you will receive 4-canisters of IsaLean Shakes in any flavor, 2-Nourish for Life containers to drink during Cleanse days, 1-Ionic Supreme, 1-Thermo GX, 1-IsaMove, and a box of Isagenix Snacks.
You will be amazed at how light and refreshed you feel after the 30-Day Weight Loss system, and you will want to continue using Isagenix products for the rest of your life. Enjoy your weight loss journey and here's to improved health!