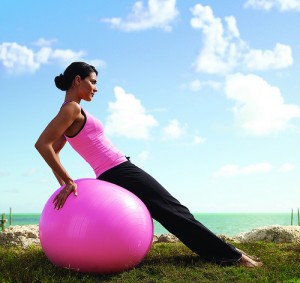 We all know that exercise is crucial when it comes to losing weight. Not only will you burn more calories just by participating in any physical activity, but you'll also give your metabolism a boost, which will help your body burn fat and process calories more effectively.
Exercising will give you more energy to get through your busy day, improve your overall health, and prevent a host of diseases. Combined with a healthy diet, regular exercise is the most efficient way to lose weight.
The challenge for many is learning to enjoy physical activity. If you've been a couch potato for most of your life, it isn't easy to force yourself to participate in a committed workout routine. Finding an activity that you enjoy is the best way to start a habit of exercising. In fact, the more you anticipate a good time instead of dreading the hard work it entails, the more likely you are to get started and keep up that good habit.
Now is the time to think outside of the box, with some alternative exercise ideas. Make a list of every activity you can think of that you've ever enjoyed participating in, as well as any activity you think you might like to try. Exercise doesn't have to mean joining an expensive gym and forcing yourself to get onto that treadmill or stair climbing machine. You might try several different activities until you find one that gets you excited to get out of bed in the morning, or gives you something to look forward to at the end of the work day.
If you're having trouble coming up with ideas, here are a few to get you started.
Dancing
With the popularity of television's "Dancing with the Stars," dancing has become an exciting and fashionable craze. It's not only fun, it's also a great workout, and an activity that people of all ages can enjoy. Many communities offer dance classes that will not only help you burn calories, get an excellent cardio workout and increase muscle mass, but can often be a great social activity – making it something you look forward to by meeting friends and having a good time.
Of course, you don't have to sign up for a class; just turning up the tunes and dancing around is a good workout, and a great way to let loose and de-stress!
A new sport
Is there a sport you've always wanted to try? Now is the time to move forward and check it out. The best part is that while you'll be getting some great exercise, it won't feel like it! Most people tend to be so focused on learning that they don't think of it as hard work. If you enjoy team sports, consider joining a local softball or soccer team. Those who prefer less competition might take golf, or even belly dancing lessons!  Learning a new activity is not just a great way to work your body, it will also improve your mind.
Walking
Walking is something that almost anyone can do. It's a perfect form of exercise for people whose bodies can't take the pounding that running or other high-impact activities subjects the joints to.  Walking doesn't require a membership fee or any expensive clothing or equipment. If you live in a scenic area, you might map out a picturesque route, or enjoy a hike on a nature trail. Even when the weather is severe, you can move your walk indoors by strolling in a shopping mall.
Outdoor games
Throwing a Frisbee, playing kickball or using a jump rope can all be good ways to sneak some exercise in. Jumping rope is one of the best cardio workouts there are, and of course just hopping on a bicycle and riding around town provides an excellent form of exercise.
If you have kids around, a game of tag, hopscotch, or even Red Rover can help you get in shape, as well as teach children the importance of physical fitness.